VisitEngland 4* for Sentry Cottage
July 4. 2019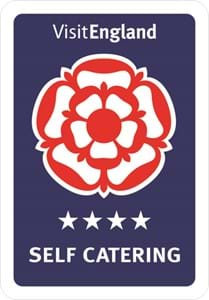 This afternoon, Sentry Cottage has had it's 4* rating confirmed for another year!  The VisitEngland assessor was very pleased to see the new features which make this a stunning cottage. 
New features since our last assessment include: gorgeous new clotted cream UPVC sash windows, which are in keeping with the conservation area in which the cottage is situated, a dishwasher: for a hassle free break from chores, a cosy Hansel and Gretel room, with 'star gazing' window and bavarian bed, built into the roof and finally a downstairs W.C with hand basin.  
Thank you to our present guests for allowing the assessment take place!